First of all, I wish you all a happy new year.
In this first article of this year, I am going to present the Geeksphone's Revolution, with Firefox Os. I needed a new phone and these are cheap but better compliant to user's rights.
My parents having decided not to buy it for Christmas (no blame, no shame. It's Christmas.) I did it myself just a few days after coming back to Aarhus, and it arrived two days later. Immediately or almost.
#Unpacking
First of all, the packaging.
It is enough elegant not to be afraid to open it - the carpet paradox, which I want to write about - and simple enough not to be sad of trashing it or that it was too expensive to make.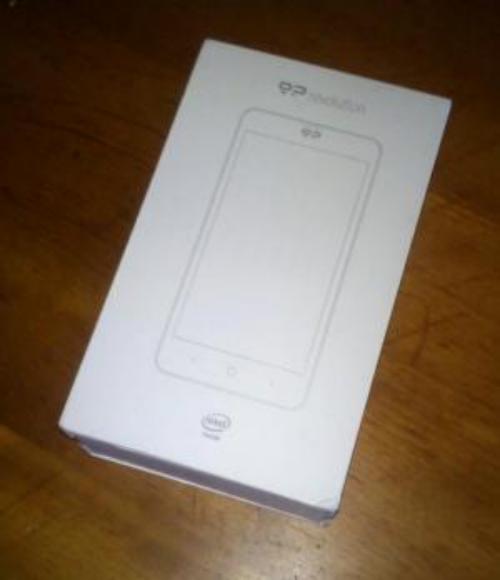 The Geeksphone's Revolution box
The box contains the phone itself, a minimalist book in english and spanish, the battery, a plug for power and the universal usb wire (micro-usb on the phone side).
I did not think of having this one, but it's ok. It means I have a one more spare wire. I always have one with me in my bag, one other in my room, when I get an actual job, I could let it on the desk. Standardization has good sides.
The phone is quite large, yet less the Nexus almost-tablets by Google.
It is still light and I would have liked it to be a bit heavier - without being a brick - but no one can be perfect. The inner engineer in me thinks :
it lacks inerty….
Let's insert the battery. It's a bit hard as you have to get the back of the phone off and you get the impression it's going to break.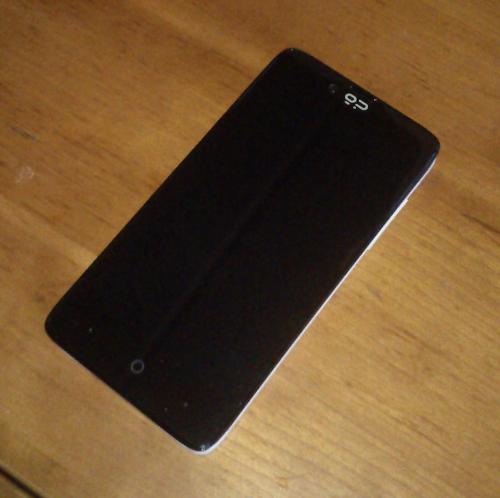 The face of Geeksphone's Revolution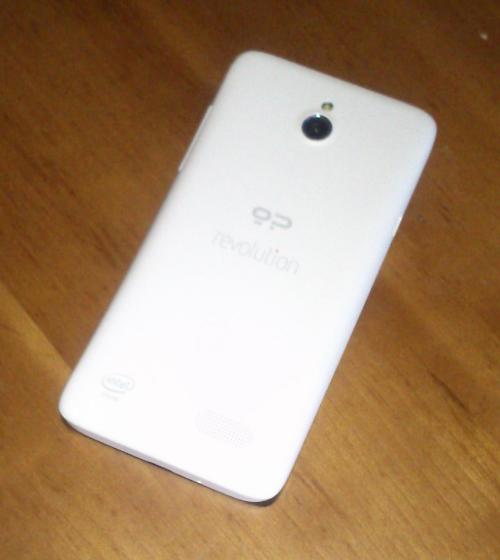 The back of Geeksphone's Revolution
Then you push the button on the top to switch it on.
A soft blue picture appears. It made me think of a beach and sand. We can see the Geeksphone and Intel logos.
The second image gives you an other Intel, just in case you haven't understood (The box, the back of the phone, the boot images. Intel advertises but at your costs !)
Here it is : Android first screen. The phone comes with android 4.4, rooted, without Google apps. Already, you feel like better. But don't let yourself too much temptated…
In use, it's fluid, zen, minimalist. Let's explore just two minutes.
In order to switch to Firefox Os, you have to actually install another OS, and for that purpose, better charge the battery max and activate wifi.
By the way, let's talk about the micro-usb plug-in, in an unusual place, the side, not the top or bottom of the device. Not a problem, just disturbing and unusual. But hard to plug in. That is a problem !
As wifi is active and battery charged, we can install Firefox Os.
Go to Settings > About phone > System update > Install other Os
Here, you got several solutions (I got two) and you choose obviously FFOS (what else ?).
You must push on the download button to the right. I had to reboot Android once before it proposed me the actual installation, but I believe it's because I was not patient enough.
In order to install, the phone declares it's going to reboot on recovery mode.
#Inside Firefox OS
As soon as Firefox Os got up, have a tour in.
We got FFOS 1.3. I don't have pictures, because when I switched it on, I had the memory card inside the phone. I would have to take pictures of the phone itself while running. Paradox.
Or I would have to take screenshots, more realistic, but I don't know how to do it. Who cares, there's tons of pictures on the web.
The phone is still running smoothly. I can go from one application to another without lagging.
##First screen
On the top, four buttons : social, games, music, entertainement. Tapping one of them, I get a group of links to mobile websites. So, Facebook, Linkedin and Wikipedia apps are actually links to the mobile websites.
As you can understand, the phone uses massively web technologies, reason why it's so fast (no need to use special code or whatever, just use the web standards).
On top of the first screen, there's also a research field which can get access to other webapps, or you get accurate links to your research.
Typing Horsens (the danish town where I made my Erasmus trip), I get links as Google, Google Maps, Horsens on Wikipedia, and a picture from a building in Horsens get in backscreen.
One can also install real applications with the market.
I installed Loqui IM (instant messaging), osBattery (monitoring and advices about the battery), diaspora mobile, FoxyMPD (MPD client) and Here Maps (not yet tested).
I could also have installed native Facebook app, but for what purpose ? The mobile website works fine and Loqui IM is a fine IM client.
And, last but not least, it makes Zuckerberg Messenger out of the thing, and that is priceless !
##Second screen
The second screen contains the apps photo, Gallery, Agenda (with CalDav protocol), Clock (with alarm and chrono), mail client, Music, Videos, the settings, the market, and the data consumption monitoring.
Internet browsing is smooth, youtube videos run OK.
I can take pictures fast, opposite to my former phone, which took a while to save the picture.
##First problems
Obviously, nothing is perfect. I don't have gpg on the phone.
The simcard could not be setup properly. It ought to be a nano or micro-sim, whatever the name of it. No matter, I simply cut it with scissors. No problem as the sim was ready for it with pre-cut lines.
Loqui IM doesn't want to connect to jabber - actually, it connects, but nothing happens after - and I don't know if I can make OTR with it.
Impossible to get to Linkedin either. Not a pain, but still, it's supposed to work :).
My ssl website is not OK, due to the fact that Cacert certificates are not accepted by Mozilla. I am looking to some solution to this problem.
I am not yet fine with managing the apps and links. Particularly when it comes to uninstall a real app.
Finally, the photo Gallery needs a bit of cleaning, or anybody could dig in whereas my organization made sense in Android.
All in all, I am quite happy of this. I had to have a new phone, the previous one beginning to have problems. I feel way better, on a eally reasonable price, that is, not an iPhone or an HTC made of diamonds…