As soon as I had a flat in Aarhus, I managed to get back France for few days, to close all my things there, get my belongings and finish all french related affairs.
So, I returned there, have few time with my family, and then packed everything and placed it in my car, and go !
The trip
Let's start : you drive through five countries, including half of Germany, with all your belongings in 3 cubic meters, at 110 km/h, in a small car. quite an experience !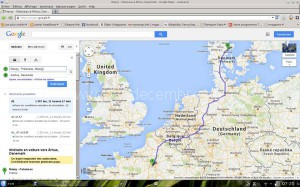 1200 km between Paris and Aarhus
I say an experience, you need to understand it clearly : if you have any trouble, any accident, any problem with the police, you're doomed ! Think of it : all your life here, in a small car… That's not exactly the safest situation !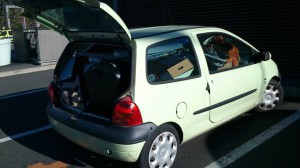 All my life and belongings in a small twingo across Europe !
So you're extremly cautious !
I have done the whole trip in two days, sleeping ina german hotel for the night.
At the end of the trip, at the danish border, it began to rain, like if Denmark was welcoming me in its own kind way ! But I have not came here for the climate.
Make it fit to live in
So I was in Aarhus with a car. Good thing to move in, cause it's hard to buy furniture when you have only a bike ! I round the city to visit almost every second hand furniture shop, and I get a sleeping sofa, some chairs, a dining table, a small table for living room and a washing machine (this one on dba.dk). Then I got to IKEA, and bougth the things you prefer to have new, like bedclothes, and duvet, but also some kitchen tools, plates and pans. This Ikea trip cost me around 1000 danish kroner, so around 130 €, plus the previous furniture which was 2000 DKK.
As you can see, I managed to make my home livable for around 3000 DKK, around 400 €, and I think of it as quite an amazing exploit I am proud of !
I also prepared the next step, arrival of my little furry friend, as I bought some litter and 10 kg of dry cat food. You will read of it soon !