I didn't talk about the trip itself in my last article. Yet, I have gone across five european countries : France, Belgium, Netherlands (the Limbourg panhandle), Germany and Denmark, a 1200 km journey !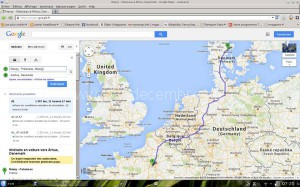 1200 km between Paris and Aarhus
I did the first on two days, stopping for the night in a german hotel, and the way back on a single day.
Usually, I don't like to drive. I don't know why, this time, despite tension, I began to feel discomfort the first day only after the german border. So with at least 400 km behind me !
Germany was kind of awesome : everything is giant there ! Crossroads, bridges, motorway rest areas, tunnels…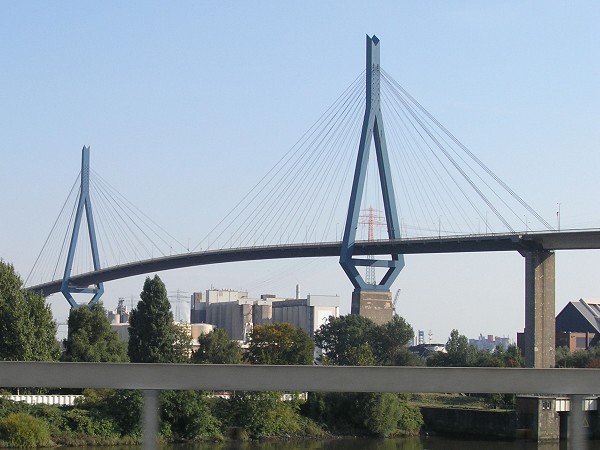 A bridge in Hambourg
Photo Credits : Structurae
Traffic jam ! I have been blocked on a landscape road for three hours because the motorway has been closed. The whole traffic of a four lines motorway has been derivated to a tiny one line landscape road.
An other magnitude moment was going upside the Kiel canal, with seagoing ships going slowly under yourself.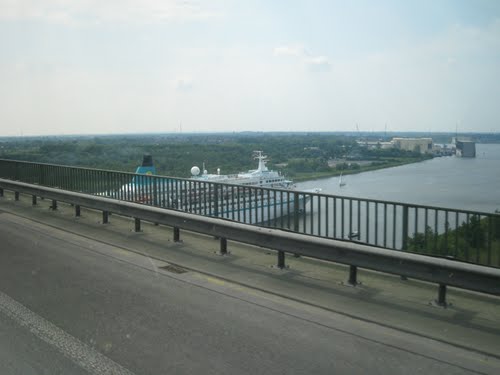 Kiel canal passage : a steamer goes under the motorway.
Photos credits : interceptor.nl
This was also an occasion to learn things about Germany ! Germans don't speak well English or French. So far for the economic model !
During the back trip, I did some carpooling, so that I could rest and we did the journey almost without a stop, except for eating of course. That's also more ecologic and cheaper.
And during this trip back, we have gone across Belgium at night. With Motorways wider than football fields and so much light you could drive almost car headlights switched off !
Belgians obviously use much nuclear power !
You shall take care of the speed. In Germany, it's limited in some places, but you can't guess why. And in Belgium, in plain night, there was nobody on the road, you can easily let the speed raise 140 km/h ! In a twingo ! Guess the noise and the fuel consumption ! Without speaking of danger !
But, as you can see, I have succeeded ! See you soon !